More than 60 U.S. bishops expected to join World Youth Day pilgrims
Angelus News
June 15, 2011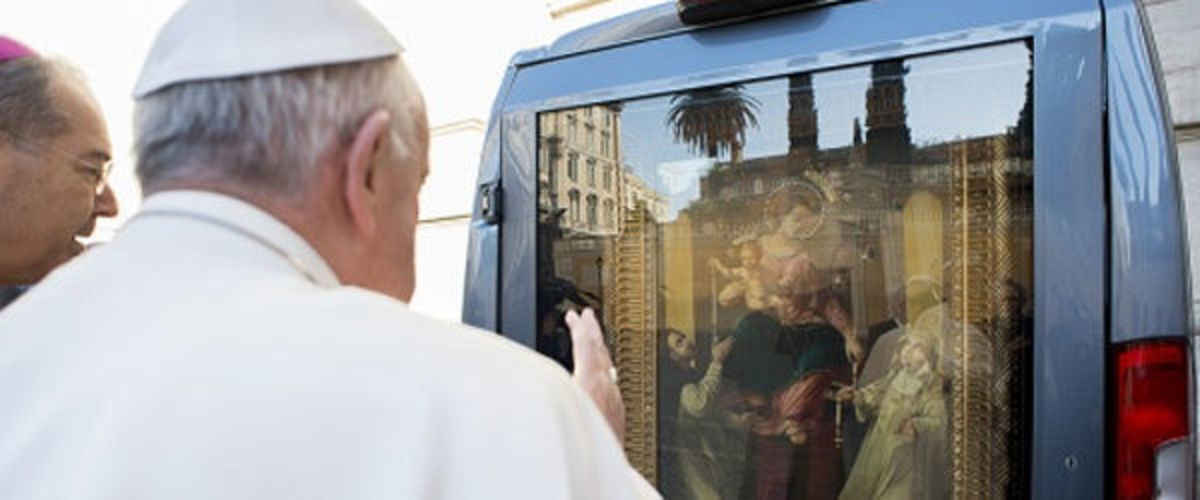 A morning Mass for the U.S. pilgrims, with the bishops concelebrating, is slated for Aug. 20 at Palacio de Deportes, home to "Love and Life: A Home for English-Speaking Pilgrims," which will provide English-language World Youth Day events. The air-conditioned center has seating for 15,000. The Knights of Columbus and the Sisters of Life are lead sponsors of the Love and Life pilgrimage center; they had jointly sponsored a similar center for 2008's World Youth Day in Sydney, Australia. Co-sponsors include Holy Cross Family Ministries, Canada's Salt and Light Television Network, the Apostleship of Prayer, the Fellowship of Catholic University Students, World Youth Alliance and the Pontifical John Paul II Institute for Studies on Marriage and the Family. The center will be open free of charge to all World Youth Day pilgrims. A special chapel is being constructed at the site. Activities at the center will include Masses, devotions, catechesis sessions, concerts, speakers, witness testimonies, prayer, movie screenings, a eucharistic procession, an outdoor Way of the Cross, eucharistic adoration and sacramental confession.Nuncio renews call for abstinence, fidelity-based efforts to limit AIDSUNITED NATIONS (CNS) — Abstinence and fidelity-based programs remain the only universally effective, safe and affordable means of halting the spread of AIDS, the Vatican's ambassador to the United Nations told a meeting to review progress and chart the future course of the global response to the disease. Archbishop Francis Chullikatt also said in remarks delivered June 10 that access to anti-retroviral drugs is vital in treating the disease and for reducing the risks for spreading it, but should not be seen as a means to "diminish the consequences of dangerous and irresponsible behavior." The nuncio's remarks were delivered by Jane Adolphe, associate professor of law at Ave Maria School of Law in Naples, Fla., and a member of the Vatican delegation to the U.N. meeting reviewing efforts under the Declaration of Commitment on HIV/AIDS. The archbishop said the world's approach to the AIDS epidemic must involve "a value-based response which recognizes the need to promote the inherent dignity of the human person, thus, responsible sexual behavior and recognition of responsibility to oneself and one's own community." While access to anti-retroviral drugs has proved beneficial in treating AIDS and limiting the spread of the human immunodeficiency virus that causes the disease, the archbishop said only about a third of the 15 million people with the disease in low- and middle-income countries can obtain the medication. Archbishop Chullikatt also pointed to reports that showed funding to combat AIDS fell in 2010 for the first time in the 30 years since the disease was identified. "We are reminded that political declaration and good will need to be matched by concrete actions on the ground and at the international level," he said.Bishop Finn appoints former U.S. attorney to conduct independent reviewKANSAS CITY, Mo. (CNS) — Bishop Robert Finn of Kansas City-St. Joseph has appointed a former U.S. attorney to conduct an independent investigation of diocesan policies and procedures used to address sexual misconduct by church personnel. Effective immediately, Todd P. Graves will conduct an independent review of the case of Father Shawn Ratigan, a pastor who faces charges of possession of child pornography. Graves, the former national co-chairman of the U.S. Justice Department's Child Exploitation Working Group, also will lead "an independent and complete review" of the diocesan "Ethical Codes of Conduct and Sexual Misconduct" and its policies, procedures and training mandates. Bishop Finn said the review will bring clarity out of the "shame, anger and confusion" surrounding the May 19 arrest of Father Ratigan. "In addition to our ongoing and full cooperation with law enforcement, this review will help us to determine the effectiveness of diocesan policies and procedures in a very troubling situation," Bishop Finn said June 9. He also announced other steps to implement his "call for change," including the appointment of an independent public liaison and ombudsman "to field and investigate any reports of suspicious or inappropriate behavior;" reaffirmation of current diocesan policy; an in-depth review of diocesan personnel training; and continued cooperation with local law enforcement. "These are initial steps. Other actions are forthcoming," he said.Evangelize with courage, conviction, joy, pope says VATICAN CITY (CNS) — Pope Benedict XVI said that a proper transmission of the faith to the young or the uninitiated depends on a solid grounding of the basics of Catholic formation — baptism, first Communion and catechism. Pope Benedict XVI told participants of a diocesan conference in Rome June 13 to not be afraid of their duty as Christians to evangelize and to pass on the word of God "with courage, with conviction, with joy." Speaking from Rome's Basilica of St. John Lateran, the pope called for renewed efforts for evangelization, which he said, "is not the duty of a few, but of all the members of the church." Special attention should be given to the education of children, adults who have not been baptized and those who have left the church, he said. It is the duty of Catholics today, he said, "to demonstrate the beauty and reason of faith." He called on parents to baptize their children, saying that even youngsters are capable of understanding the importance of the Christian message, can appreciate prayers and rites and know the difference between right and wrong. Tweet Catholic, flockNote.com unite Catholics onlineWASHINGTON (CNS) — Social media is becoming an increasingly important part of everyday life in the United States and around the world and Catholics are finding ways to make a unique mark on the social media world. "I think the church is catching on to using social media in bigger and bigger ways. The church has got some pretty big toes stuck into the water right now ... and I'm excited to see the splash that's coming in the next year or two," Matt Warner, creator of Tweet Catholic and author of FallibleBlogma.com, told Catholic News Service. As a Catholic blogger, Warner has more than 17,000 readers, but it is his Tweet Catholic, www.tweetcatholic.com, that has brought Catholics together in the blogosphere. Tweet Catholic was created in 2009 to connect Catholics already on Twitter so they can follow each other, share information and build the Catholic community on Twitter. Warner explained that as Twitter became more and more popular, he noticed Catholics trying to connect and find each other through it. He set out to create a simple website that would put Catholics on Twitter in touch with one another. "It's turned into a good starting point for a lot of new Catholics on Twitter to help them jump into the Twitter experience and find some great Catholics to follow and show them the power of Twitter," said Warner.Rome university, Vatican to promote best practices in fighting abuseVATICAN CITY (CNS) — A pontifical university and a number of Vatican dicasteries are offering a special symposium to help bishops around the world as they seek to comply with a recent Vatican mandate to set up guidelines for handling accusations of clerical sex abuse. The symposium, which will be held in Rome in February, is meant for representatives of the world's Catholic bishops' conferences and major superiors of religious orders. Titled "Toward Healing and Renewal," the symposium aims to forge "a global response to the problem of sex abuse and safeguarding the vulnerable," said a June 13 press statement. The symposium is being organized by Rome's Pontifical Gregorian University with the support of various Vatican offices to help bishops and religious orders "adequately respond to the Congregation for the Doctrine of the Faith's request to prepare directives and effective pastoral plans dealing with sex abuse," it said. The meeting will also look at building a new "multilingual e-learning center" that would be an online resource for church leaders to access and distribute resources and best practices dealing with prevention and helping victims of sex abuse, it said. The symposium will offer workshops and talks in four languages led by experts in psychology, pastoral care, law and theology, it said.Government forces kill two church workers in Sudanese border stateWASHINGTON (CNS) — Two church workers were murdered by government forces in Sudan's South Kordofan state in what one church adviser called a campaign of "ethnic cleansing." John Ashworth, an adviser to the Sudan Ecumenical Forum, which includes the Catholic Church, would not elaborate on the religious affiliation of the church workers, who were killed June 11 after two days in detention. He told Catholic News Service that he could not be more specific because church officials on the ground were becoming more nervous about drawing attention to the church. The two were among "a huge number of murdered civilians," Ashworth said, referring to a "deliberate policy by the Khartoum regime to kill its own citizens. It is ethnic cleansing, and it is not new," he said in an email. Ashworth said the people being killed are Nuba, an indigenous people of Sudan.Pope meets Gypsies, urges end to prejudice, oppression, rejectionVATICAN CITY (CNS) — Pope Benedict XVI prayed that the world's Gypsies no longer be subjected to prejudice, oppression and rejection. Gypsies should always uphold "justice, legality, reconciliation and strive to never be the cause of someone else's suffering," he said in a festive meeting with nearly 2,000 Gypsies, Roma, Sinti and Travellers in the Vatican's Paul VI hall June 11. Pope Benedict recalled the painful past of the Gypsies, especially when hundreds of thousands of men, women and children "were barbarically killed in extermination camps" during World War II. He acknowledged that even today, many Gypsy communities and individuals still face "serious and worrying problems, such as often-difficult relations with the societies in which they live." Europe must not forget the suffering the Gypsy people went through, he said, launching an appeal that Gypsies "may no longer ever be the object of oppression, rejection and contempt." The pope also asked the Gypsy communities to do their part and respect local laws and be good citizens. He called on Europe and Gypsies to collaborate more closely and "write a new page of history together."Priests born in Mexico, Poland named auxiliary bishops in ChicagoWASHINGTON (CNS) — Two Chicago pastors — one born in Mexico, the other in Poland — have been named auxiliary bishops in the Archdiocese of Chicago by Pope Benedict XVI. The appointments of Father Alberto Rojas, pastor of Good Shepherd Parish, and Father Andrew Wypych, pastor of St. Francis Borgia Parish, were announced in Washington June 13 by Msgr. Jean-Francois Lantheaume, charge d'affaires at the apostolic nunciature. Bishop-designate Rojas, a 46-year-old native of Mexico, will become the 27th active Hispanic bishop in the United States. Bishop-designate Wypych, born 56 years ago in Kazimierza Wielka, Poland, was ordained a priest of the Archdiocese of Krakow in 1979 and came to the United States in 1983. Chicago is believed to have the second-largest Polish population in the world, after Warsaw.Collaboration not isolation called key to addressing sex abuse issueWASHINGTON (CNS) — Deacon Bernard Nojadera, newly appointed to head the U.S. bishops' Secretariat of Child and Youth Protection, is a firm believer in working together. "I don't work in isolation," he said, stressing the need for collaboration with church officials, diocesan leaders, agencies combating abuse and people the office is serving. He intends to bring to his job, which starts Aug. 15, the same skills he has used as director of the Office for the Protection of Children and Vulnerable Adults in the Diocese of San Jose, Calif., since 2002. "What I experienced here is being packed and coming along for the ride as part of the journey," he told Catholic News Service June 10 in a telephone interview from his San Jose office. He plans to rely on his previous conversations with abuse victims, successful ways the diocesan office operated and a pattern of collaboration he developed with colleagues across the state. He also comes to Washington with a sense of humility, saying he has "big shoes to fill" following predecessors Teresa Kettelkamp and Kathleen McChesney, who were both former law enforcement officers. McChesney was the highest ranking female official in the FBI when she took the post with the bishops' child protection office in 2002, when it was created, and she served until 2005. Kettelkamp, who was the first woman to attain the rank of colonel in the Illinois State Police, has held the position since 2005 and leaves the job in August.English archbishop: Marriage not private agreement, but a 'public good'LONDON (CNS) — The spiritual leader of the Catholic Church in England and Wales has praised traditional marriage as a "public good." Archbishop Vincent Nichols of Westminster said it was "vitally important" for the "whole of society" to support marriage at a time when more British couples than ever were choosing to live together outside of marriage and to have children out of wedlock. He said the British had acknowledged the importance of marriage by rejoicing over the April 29 marriage of Prince William and Catherine Middleton in London's Westminster Abbey. The "mighty public cheer" that rang out after the couple exchanged vows showed an "instinctive and profound public understanding of the nature and consequences of marriage itself," said Archbishop Nichols, who was a guest at the royal wedding. "Marriage, as a permanent, exclusive commitment between this man and this woman was welcomed, applauded," the archbishop said in a homily at a Mass for married couples in Westminster Cathedral. "There was rejoicing in what the newlyweds had just done," he said. "Marriage, then, is a public good.Vatican diplomat: Structural flaws of 'jobless growth' create problemsROME (CNS) — While there are signs of recovery in the global economy, structural flaws in the system are preventing the creation of new jobs worldwide, said a Vatican diplomat. The ripple effects of widespread unemployment negatively influence the quality of society in all economies across the world, from the most advanced to the underdeveloped, said Archbishop Silvano Tomasi, the Vatican representative to U.N. agencies in Geneva. Speaking June 8 at the U.N. International Labor Conference in Geneva, Archbishop Tomasi urged that all involved in "the burgeoning and mercurial global economic system" work to foster fundamental principles that ensure respect for the common good and protection of the most vulnerable. Catholic News Service in Rome obtained a copy of Archbishop Tomasi's text, in which he said the protracted economic downturn has caused social safety nets to be stretched to the breaking point, while austerity programs put in place in response to diminishing public budgets often cut services that affect children, the elderly and weaker members of society. Although the world economy is growing and some indicators show it returning to pre-crisis levels, the archbishop said, "it is not able to create sufficient number of jobs." This is a problem in poor and developed countries alike, but even in growing, emerging economies like China and India, he said.
---
Read the latest local and global Catholic News.
Sign up for our newsletter.
---