May Day marchers hope for bridges, not walls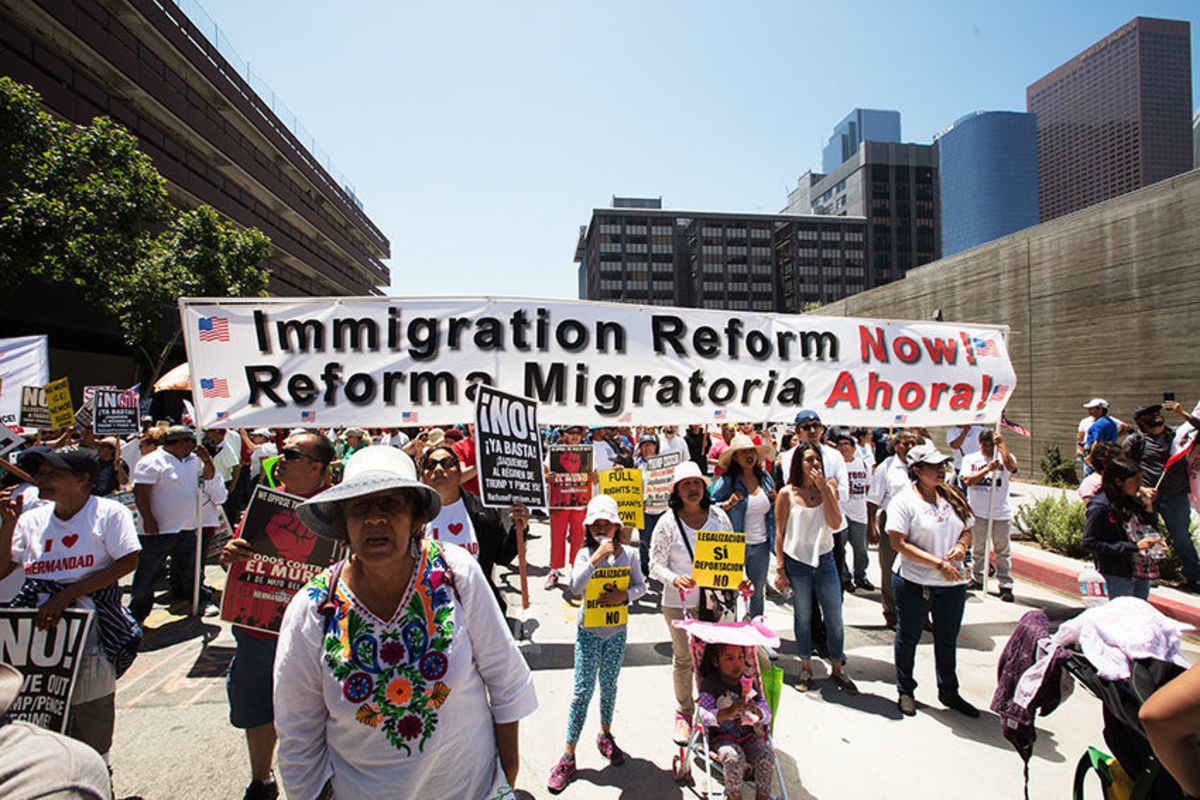 Well before 11 a.m., the time when the May Day march would begin, participants began approaching the corner of Wilshire and Alvarado, in front of MacArthur Park.
Despite her small stature, 79-year-old Petra Ramírez firmly held a sign that read, "Build Bridges Not Walls." Together with other members of the pro-immigrant group, "Caravana contra el Miedo" ("Caravan against Fear"), the senior citizen couldn't help but express her emotions.
"I came to support the immigrants," she said. Originally from Mexico, she's lived in the United States for 50 years. Since she immigrated, she's harvested oranges, grapes, onions, tomatoes and peppers in Fresno. She's now retired and has 10 grandchildren.
"You have to plant in order to harvest, and without fear!" she said. "As it is in the field it is in everything. If we do not want walls nor separation of families, we have to march. That's why I'm here and happy. I'm used to walking and I won't tire."
Ramírez explained how she also walked with César Chávez in much longer marchers with the United Farm Workers. "He fought for workers and through suffering accomplished triumph. It showed me that we have to stand up and not be afraid."
Countries around the world mark the Day of Work May 1, though it isn't observed in the United States. Nonetheless, it has become a day of marches in favor of immigrants and workers.
More than 100 local groups joined the May Day Coalition of Los Angeles to participate in the "Resist Los Angeles" march, considered among the largest in the nation.
Rosalía and James Murphy, who don't belong to any of the organizations, also took part. Rosalía is an immigrant from Guatemala and James is a descendant from Irish immigrants. They have been married for 32 years, have four children and carried a sign that read, "Immigrants Make This Country Great."
"At home, we have made a bridge between cultures," James said. "We speak English and Spanish. We eat food from here and from Guatemala and our children are a mix of both races. We hope that a bridge like that can unite us in the United States, putting aside color and immigration status."
Mirna Aguilar took part in the march with her two grandchildren, 7 and 9. "I brought them because I want to show them how to be proud of being Hispanic and so they learn to fight for the rights of the community. We believe that President Trump will get the message that the united community has never been defeated."
---
Read the latest local and global Catholic News.
Sign up for our newsletter.
---