Lessons from America's newest blessed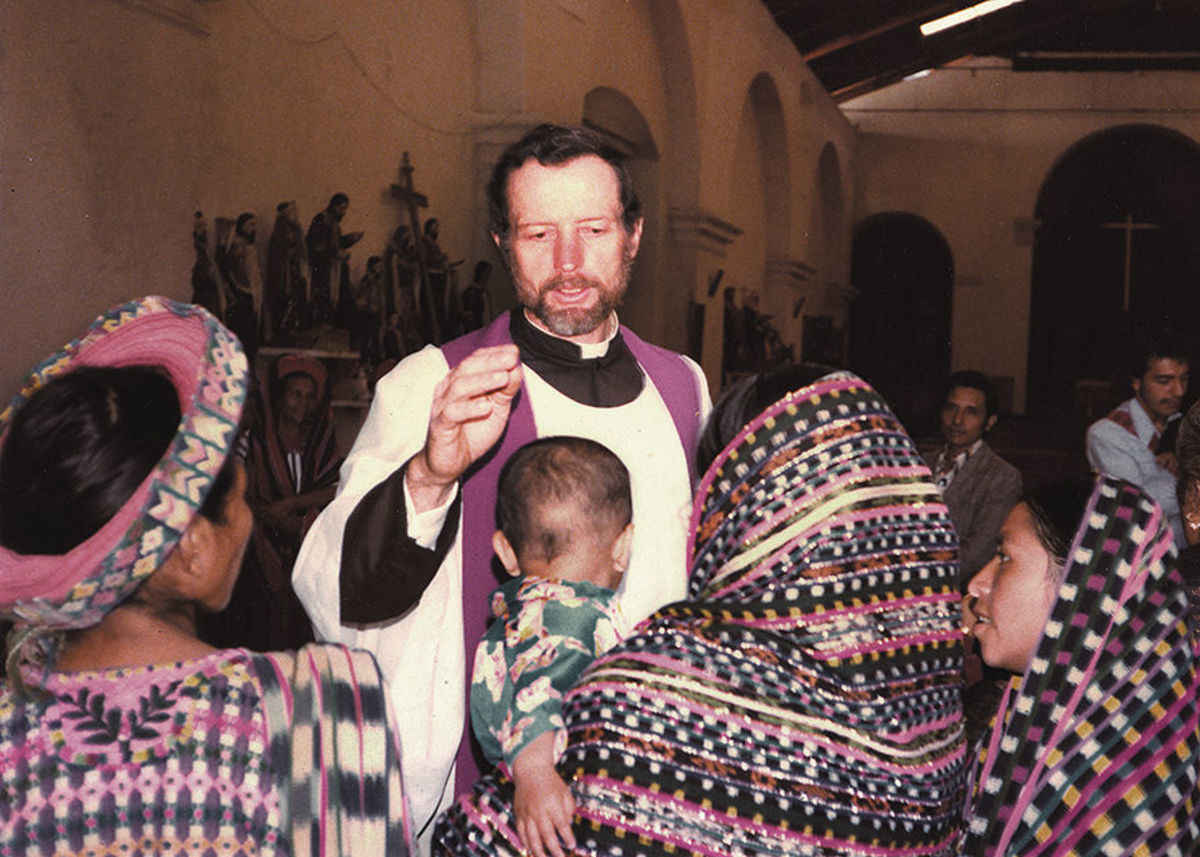 Early one spring evening in 1979, Father Stanley Rother left the mission church of St. James the Apostle in Santiago Atitlán, Guatemala, to make a sick call, something he did almost every night after dinner. Mission volunteer Frankie Williams accompanied him.
They walked at a brisk but calm pace, taking deliberate, cautious steps on the dirt path, with only the light of the moon to guide them. When they arrived at the tiny, thatched hut, Frankie silently followed her pastor's lead, as he lowered his 5'10" frame to enter the lodging.
It was clear that the man they came to see was dying.
Tomás was known as "the bishop" among his fellow Tz'utujil Mayans because of his ritual of following the priest as he processed out of Mass. He lay on a low pallet covered with reeds, surrounded by family and friends.
As soon as they saw Padre Apla's — their name for Father Rother in their native Tz'utujil — a human path opened up allowing their pastor to make his way to Tomás. 
Frankie watched as Father Rother sat on a tiny chair, made the sign of the cross and reached out to anoint Tomás. Suddenly, the dying man sat up with a shot of energy and said something in Tz'utujil, remaining there until Father Rother finished anointing him. 
Then Tomás looked at his pastor, put his hands on Father Rother's head and started to pray, partly singing a blessing over him in Tz'utujil. When he was done, Tomás fell back on the cot and closed his eyes. 
"At that point Stan looked at me and I could see his eyes watering," remembered Frankie. She went out with tears in her eyes, Father Rother handed her his handkerchief and they began walking home.
That night in Tomás' hut, she would recall years later, "was one of the most profound experiences of my life."
A little more than two years later, on July 28, 1981, Father Rother was shot in the head in his mission rectory by three intruders who were never caught.
Last year, Pope Francis officially recognized that Father Rother's death was a martyrdom for the faith and for his people at Santiago Atitlán.
He is the first American martyr to be recognized by the Church and the first priest from the United States to be beatified — a historic event that took place on Sept. 23 in Oklahoma City, in a Mass celebrated by Cardinal Angelo Amato, head of the Vatican's Congregation for the Causes of Saints.
In a world that idolizes sports heroes and glorifies celebrities, one of the most inspiring things about Father Rother — a farmer from Okarche, Oklahoma — is precisely how average and ordinary he was.
"His beatification is a verification that God can do great things with relatively 'insignificant' people," explained Bishop Daniel Mueggenborg, auxiliary bishop for the Archdiocese of Seattle.
Bishop Mueggenborg, a fellow Okarche native, said his life was changed by serving Mass as a college student for Father Rother.
And he said Father Rother's life was a reminder that heroic holiness is accessible to each one of us. "His life makes me ask the questions: Do I want to be holy? Do I want to follow wherever the Lord will lead me? Am I willing to give God my all so as to become all he desires me to be?"
Saints are local. They come from ordinary places like Okarche and Santiago Atitlán. Saints also are ordinary people and we need their witness, to remind us that we are all called to holiness.
Stanley Francis Rother was raised in a staunchly Catholic, German farming family, in the farmhouse where he was born on March 27, 1935.
Life for the Rother family centered on the family, the farm and on the Church and its traditions. After supper every night, Stanley and his four siblings knelt by their chairs around the kitchen table to pray the rosary.
"We prayed a lot together as a family, and I know that's what drew us closer," said his sister, now Sister Marita Rother, ASC.
It is in this ordinary life that Father Rother first experienced a personal encounter with the Good Shepherd, where he learned what it meant to live as a disciple of Jesus and where he formed a resolute desire to become a priest.
When the 23-year-old flunked his first year of theology at a San Antonio seminary, he was sent home. Learning Latin had proved to be a huge obstacle.
With his bishop's backing, he persevered, resuming his studies at Mount St. Mary's Seminary in Emmitsburg, Md. Eventually he was ordained a priest for the then-Oklahoma City and Tulsa Diocese on May 23, 1963. He was 28.
In 1968, he went to Guatemala as a mission priest. The 40-year-old Father Rother became the sole priest and pastor at the Oklahoma mission, which served 25,000 Tz'utujil Mayan parishioners.
He instituted a personal tradition of Sunday meals with his parishioners in their homes where he ate whatever they ate — a practice that also led him to have regular bouts of dysentery because of the inadequate hygiene used in preparing their food. 
In an irony that might make God smile, the young man who flunked seminary because he couldn't learn Latin, not only became competent in Spanish, but also mastered the challenging Tz'utujil language of his Mayan parishioners.
And in his ministry, he brought staggering numbers to the faith. In one year alone, 1974, Father Rother celebrated 649 baptisms, 85 weddings and 150 first Communions. More than 2,000 people came for Communion every week. 
By 1980, however, "el conflicto armado interno" — Guatemala's violent war — had made its way to Santiago Atitlán and the other villages surrounding Lake Atitlán.
In addition to his pastoral work, Father Rother's priestly and sacramental duties now included heartbreaking tasks, such as walking the roads searching for the bodies of the "desaparecidos," parishioners who had gone missing.
"The country here is in rebellion and the government is taking it out on the Church," Father Rother wrote to his archbishop in September 1980. "The low wages that are paid, the very few who are excessively rich, the bad distribution of land — these are some of the reasons for widespread discontent."
So the generous, loving pastor himself became the presence and the oil that nourished and healed them. He fed the hungry. He sheltered the needy. He called on the Tz'utujil in hiding. He visited the persecuted in prison. He clothed and took care of the widows and fatherless children.
In the end, the choice to die for his Tz'utujil was a natural extension of the daily choice he made to live for them.
"What can we do, but do our work, keep our heads down, preach the gospel of love and nonviolence," he wrote to his friend, Frankie Williams.
Our missionary journey to the peripheries of our life will inevitably be different than the ones encountered by Blessed Stanley Rother. But the question we face is the same: What brave thing has God put in front of me to face right now? Whether it's with my marriage, my children, my health or my need to forgive — will I say yes in trust that it will lead me to eternal life? He can show us how.
As our newest American blessed wrote in his final Christmas letter from the mission in 1980: "The shepherd cannot run at the first sign of danger. Pray for us that we may be a sign of the love of Christ for our people, that our presence among them will fortify them to endure these sufferings in preparation for the coming of the kingdom."
María Ruiz Scaperlanda is the author of "The Shepherd Who Didn't Run: Father Stanley Rother, Martyr from Oklahoma" (Our Sunday Visitor, 2015).
---
Read the latest local and global Catholic News.
Sign up for our newsletter.
---