'La Virgen de Guadalupe: Dios Inantzin' celebrates 15th year at the cathedral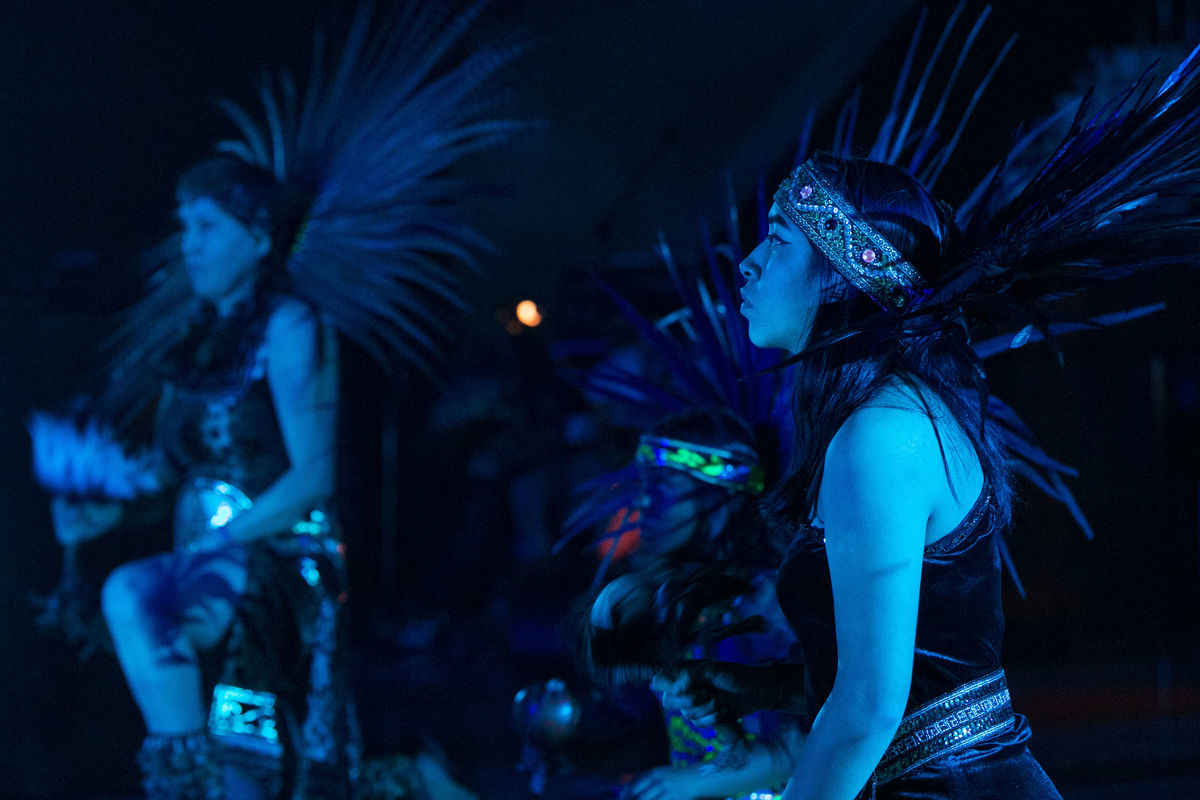 For theatergoers around the world, the Christmas season is synonymous with famous productions, such as Charles Dickens' "A Christmas Carol" and Tchaikovsky's "The Nutcracker." But over the past 15 years, a growing number of people in the Los Angeles Archdiocese, particularly its Mexican Catholic demographic, have also come to associate yuletide theater with the Latino Theater Company's (LTC) annual performance of the powerful play "La Virgen de Guadalupe: Dios Inantzin" at the Cathedral of Our Lady of Angels in Downtown L.A.
Written by actress/playwright Evelina Fernandez, "La Virgen" depicts the true story of the four apparitions of the Virgin Mary before the Indian peasant, and now saint, Juan Diego, in 1531 on the Hill of Tepayac, and his ensuing struggle to convince the archbishop that Mary had instructed him to build a church on the hill (the current site of the Basilica of Our Lady of Guadalupe in Mexico City).
For Fernandez, who serves as artistic director for the LTC with her husband/LTC co-founder Jose Luis Valenzuela, writing "La Virgen" presented her with the opportunity to portray her underrepresented culture on her own terms.
"There are so many beautiful stories about our community that haven't been told and I want to contribute to making sure they are," she explained. "We had performed 'La Virgen de Tepeyac' by Luis Valdez a few times, and when that script became unavailable, we decided to write our own version … with an emphasis on our indigenous ancestry."
The LTC encountered several hurdles when it first approached the L.A. City Council in 2002 with its vision of performing the play in the cathedral.
"Our pitch was based on the fact that Los Angeles has the largest Mexican Catholic population outside of Mexico City and that the Virgin of Guadalupe is so important to Catholics," said LTC associate artistic director Lucy Rodriguez, who also portrays the lead female role in the play. Despite a seeming lack of interest, the L.A. City Council eventually responded to their pitch in mid-November and "asked if we were still interested in doing our little play," recalled Rodriguez.
"We didn't have much time to put it together, but, under the guidance of Jose Luis Valenzuela, we scrambled, called in many favors and did it," she said. "It was rather disorderly and we thought the cathedral would never invite us back, but they did! I guess they had faith and we had perseverance, which is always a good combination."
Fourteen years later, the L.A. City Council honored "La Virgen" on Nov. 29 with a resolution to congratulate the play's 15th annual presentation at the cathedral, which will take place on Dec. 7 and 8 (at 7:30 p.m. on both nights). Thanks to the generous support and sponsorship of the cathedral and Goya Foods, the presentations are free for the community. The opportunity to present a high-quality theatrical production each year at no cost to the audience means the world to "La Virgen's" cast and crew members.
"Many in our community are working families who cannot afford to attend high-priced holiday offerings," said Fernandez of the play, which features more than 100 performers, including professional opera singers and Aztec dancers. "[This play] is our gift to Los Angeles. Entire families attend this event annually as their holiday tradition and new families attend every year."
Although the play is performed in Spanish (accompanied by English subtitles), "La Virgen" is a performance with universal appeal that transcends language, race, religions, creed and culture, because it relays a message that is important for all to hear.
"It's inclusive in that it speaks to having faith and knowing that we're not alone, to be fearless knowing that a higher power is with us," said actor Gabriel Gonzalez, who portrays one of the play's lead male roles and is joined by his wife and children in the cast and crew. "Hope speaks to those in need. It's about being brave and overcoming fear in the face of almost certain death. It's about peace in the face of ignorance and prejudice, and, in this story, peace and love win."
"Our community, the Latino community in Los Angeles and beyond, faces many challenges," added Fernandez. "We are judged unjustly, just like St. Juan Diego was when he claimed to have seen a dark-skinned virgin in the hills of Tepeyac. But he persevered and we hope that our community can learn from his perseverance and his faith, and come away with a sense of love and appreciation of who we are. We are living in challenging times and we all need to be reminded of the importance of love for our family, love for our community and love for our faith."
---
Read the latest local and global Catholic News.
Sign up for our newsletter.
---