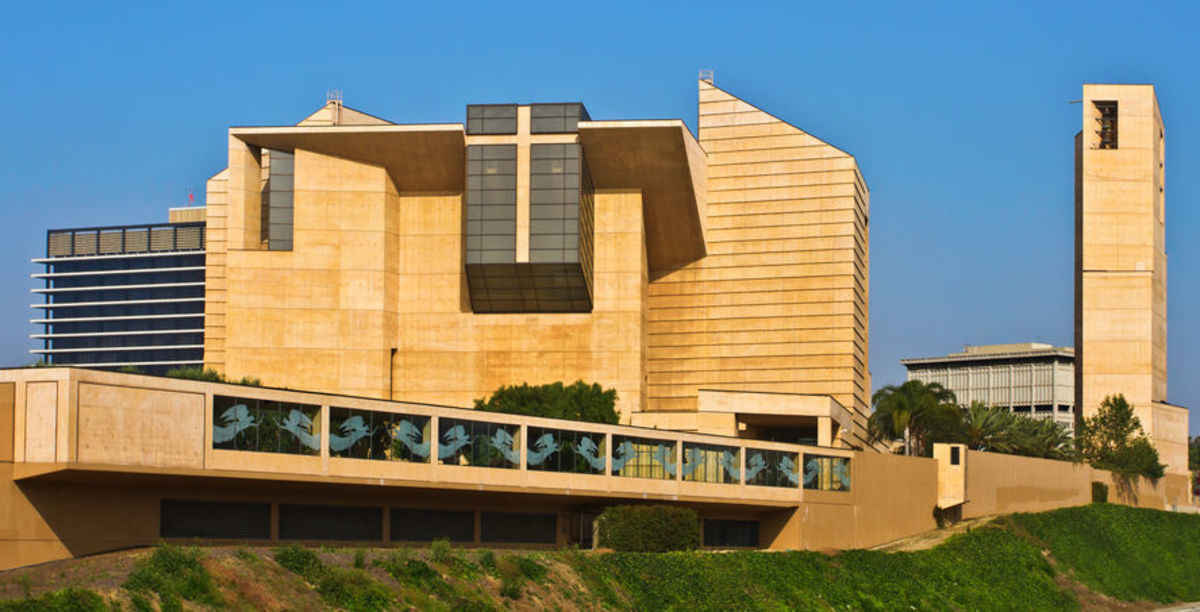 Papal Prayer Intention for June:
That social networks may work towards that inclusiveness which respects other for their differences.
Temporary Protective Status Appointments. Catholic Charities of Los Angeles is offering individual appointments to people who need legal assistance re-registering for Temporary Protective Status. Costs range from $50 to $150/person. Call 213-251-3491 to make an appointment.    
Fri., June 22
Mass and Healing Service. St. Jerome Church, 5550 Thornburn St., Los Angeles, 7-9 p.m. Presider: Father Patrick Crowley, SSCC. Call 310-508-4940. 
Holy Trinity Life Teen Band Summer Concert. Parish Center auditorium, 209 N. Hanford Ave., San Pedro, 7 p.m. Tickets: $5/person and available at Holy Trinity Church parish office. Dinner will be sold at the concert and worship experience. All proceeds benefit Holy Trinity Youth Ministry.
Sat., June 23
St. Catherine Laboure Church Rummage Sale Fundraiser. 3846 Redondo Beach Blvd., Torrance. Rummage sale will be held on Saturday and Sunday, 8 a.m.-3 p.m., in the school parking lot. For more information, contact Sue Burin at 310-308-9920. 
Office of Religious Education: Early Childhood Catechesis 2018 Summer Specialization. St. Cornelius Church, 5500 E. Wardlow Rd., Long Beach. Two-part specialization training for those interested in teaching catechism to preschool children will take place on June 23 and June 30 from 7:45 a.m. to 4:45 p.m. Cost: $55/person, and includes registration and materials. Lunch not included. For more information, visit http://www.la-archdiocese.org/org/ore/ec/Pages/default.aspx, or contact Jan Pedroza at 213-637-7352, or [email protected], or Diane Salinas at 213-637-7303, or [email protected]. 
Foster Care Information Meeting. College of the Canyons, Dr. Dianne G. Van Hook University Center, Room 222, 26455 Rockwell Canyon Rd., Santa Clarita, 10 a.m.-12 p.m. Discover if you have the willingness, ability and resources to help a child a need. For more information or to RSVP, call 661-208-4212, or email [email protected]. 
Italian Catholic Club 4th Anniversary Dinner. Spumoni's Restaurant outdoor patio, 2419 Pico Canyon Rd., Stevenson Ranch, 6 p.m. Authentic Italian food, one complimentary bottle of wine per table, raffle and dancing to live music performed by Duo Domino. Cost: $40/person, prepaid. For reservations, contact Anna Riggs at 661-645-7877.
Cinema Divina Mini-Retreat. Pauline Center for Media Studies, 3908 Sepulveda Blvd., Culver City, 2:30-9 p.m. After watching the films "A Ghost Story" and "Downsizing," we will pray using "cinema divina" and reflect on Scripture so that we can enter into humanity's longing for emotional connection and love through the pain and beauty of relationships. Donation is $30/person at the door and includes dinner.
Sun., June 24
Mass in Recognition of All Immigrants. Cathedral of Our Lady of the Angels, 555 W. Temple St., Los Angeles, 4 p.m. Archbishop José H. Gomez invites all parishes to attend in support of our immigrant brothers and sisters. Parishes are also invited to participate in the opening pre-procession at 3:30 p.m. by providing two representatives to carry a banner with the parish name. Forward the names of your representatives to Elizabeth Orozco at [email protected], or call 213-637-7329. All priests are invited to concelebrate. If you wish to concelebrate, please contact Elizabeth. 
Information Meeting for Men Interested in the Permanent Diaconate. Archdiocesan Catholic Center, 3424 Wilshire Blvd., Los Angeles, 2-4 p.m. The Diaconate Formation Office is hosting this information meeting to explain the role of the deacon and the diaconate formation program. Men must be between 30-60 years old to enter the program, and married men should attend with their wives. For more information, or pre-registration, contact Marlene Martinez at 213-637-7383 or [email protected].
Pax Christi Mass for Justice and Peace. St. Camillus Center for Pastoral Care, 1911 Zonal Ave., Los Angeles, 4 p.m. 
Sunday Funnies. Christ the King, 624 N. Rossmore Ave., Los Angeles, 7 p.m. Starring Paul Rodriguez. Tickets: $25/person, and are available at www.ctkla.org. All proceeds benefit the Center Homeless Outreach in Hollywood. 
Mon., June 25
Soledad Enrichment Action Parents Helping Parents: Parenting Instruction Training (Spanish). Helping parents raise their children peacefully and effectively and without violent parenting. 4850 Civic Center Way, Los Angeles, 8:30 a.m.-3:30 p.m. each day, June 25-29. Cost: $450/person. Call Sister Ines Tells, CSJ, at 213-480-4238 or email [email protected] for more information.
Healing Mass. St. Cornelius Church, 5500 E. Wardlow Rd., Long Beach, 7:30 p.m. Presider: Father Jerry Thompson. For more information, call 562-421-8966. 
Rosary and Mass for Peace in the World. St. Monica Church, 701 California Ave., Santa Monica. Rosary begins at 6:15 p.m. Mass begins at 7 p.m. Call 310-566-1500. 
Woman to Woman Ministry: A Spiritual Refreshment for Body, Soul and Spirit. Holy Spirit Retreat Center, 4316 Lanai Rd., Encino, 11 a.m.-12:45 p.m. Includes brief teaching, reflection questions, meditation and conversation. Bring a journal, mat or blanket, and plan to relax and refresh. Suggested donation is $15/person and an optional treat for the refreshment table. To register, visit www.hsrcenter.com, or call 818-784-4515. 
Fri., June 29
LMU Presents "A Midsummer Night's Dream." Free 90-minute performance, open to the public, June 29 and 30 at 8 p.m. at Lawton Plaza, 1 LMU Dr., Los Angeles. July 1 at 7 p.m. in Playa Vista's Concert Park, Pacific Promenade and Seabluff Dr., Playa Vista. 
Sat., June 30
Vacation for the Soul, by Sister Patricia Shaules, FSP. Pauline Books & Media, 3908 Sepulveda Blvd., Culver City, 2-4 p.m. Be refreshed with a "mini-retreat" that helps us realize our lives are in God's hands. Freewill donation. For more information or to RSVP, call 310-397-8676 or email [email protected].
Holy Trinity's Annual "Noche de Fiesta." Parish Center auditorium, 209 N. Hanford Ave., San Pedro, 6:30 p.m. Tickets: $25/person, includes great food, music and entertainment. Proceeds benefit Knights of Columbus Angels Gate Council 1740 and Holy Trinity Church. Call 310-927-8295. 
Thurs., July 5
Archdiocese of Los Angeles' Pilgrimage to Mexico and the Shrine of Our Lady of Guadalupe with Archbishop José H. Gomez. July 5-9 pilgrimage will include tours of several notable Catholic landmarks. Packages range from $1,498 to $1,898. For more information, call Judy Brooks or Mary Kay Delsohn at 213-637-7551.
Sat., July 7
Along the Way: A Pilgrim Walk. Mary & Joseph Retreat Center, 5300 Crest Rd., Rancho Palos Verdes, 7 a.m.-1 p.m. This 4.5-mile walk through Palos Verdes includes a blessing for all walkers and a hike to the Camino stations for reflections and passport stamps. Walk is moderately difficult. Wear closed toe walking shoes, sunscreen and a smile. Cost: $20/person, $15 if paid by June 29. Call Marlene Velazquez at 310-377-4867, ext. 234 for reservations or information. 
Items for the Calendar of events are due two weeks prior to the date of the event. They may be mailed to Angelus News (Attn: Calendar), 3424 Wilshire Blvd., Los Angeles, CA 90010-2241; emailed to [email protected]; or faxed to (213) 637-6360. 
All calendar items must include the name, date, time and address of the event, plus a phone number for additional information.
Interested in more? Subscribe to Angelus News to get daily articles sent to your inbox.
---
Read the latest local and global Catholic News.
Sign up for our newsletter.
---