Damien defeats Crespi, advances to CIF-SS quarterfinals
Angelus News
Feb. 26, 2016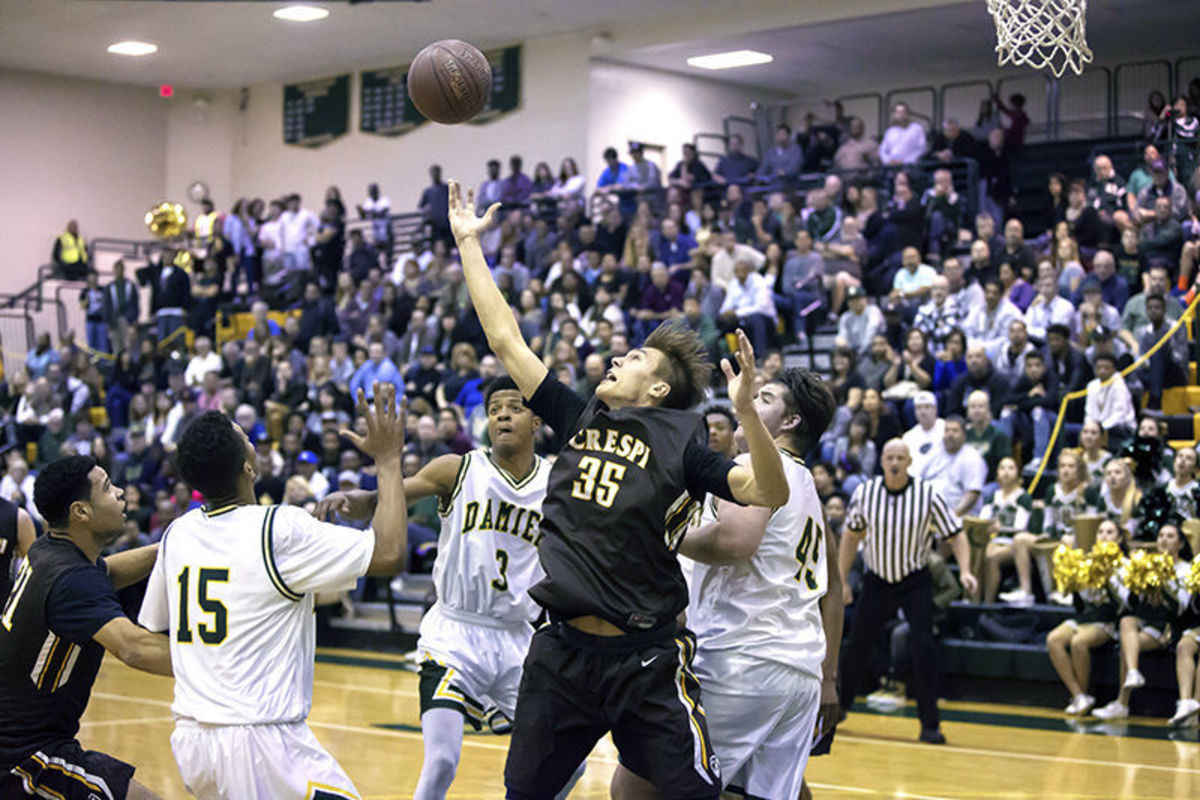 Leading up to the first round of the CIF-Southern Section state playoffs, which commenced Feb. 19, arguably the most intriguing matchup on paper was the tournament's seventh seed Damien Spartans (ranked 20th in California) hosting the 10th seeded Crespi Celts (14th), a matchup of two reigning state champions (Division 3A and 4A, respectively).
The hundreds of people in attendance were treated to a game that lived up to the hype, all the way to the final buzzer, with the Spartans triumphing with a hard-earned 65-61 win.Fueled by a game-high 23 points from Colorado-bound senior captain Bryce Peters and another 20 from senior forward Isaiah White, Damien was able to take control in the second quarter and maintain a 7-10 point lead for much of the second half. But in what was a very streaky game that saw both teams run hot and cold, the Celts got very hot during a pivotal stretch in the fourth quarter, and clawed its way back to within two points of the Spartans with just nine seconds left to play.
Unfortunately for Crespi, the comeback was just a tad too little, too late, as Damien converted the late-game free throws they needed to hang on for the win.
Ryan takes charge
Most nights, Peters and White serve as the Spartans' catalyst on the offensive end. But in the early going Feb. 19, the sparkplug was senior reserve Liyam Ryan, who came off the bench to score six of his 10 points in the first quarter and helped his team earn a slight 15-14 edge after one frame. He also converted what was one of the most important plays of the half on the defensive end, taking a charge from USC-bound senior forward DeAnthony Melton that sent the Celts star to the bench with his third foul.
"Honestly, I don't know how I took that charge," recalls Ryan. "It was a crazy play. It was kind of all like a scramble drill; [Melton] just went up for the basket, and I could've either let him go and score it or take a charge. So I just took it. That's my role on this team, to be the guy to go after the charges."
Damien's stubborn interior defense also kept Crespi senior star center Mitch Mykhaylov out of the scoring column for much of the night, and stymied the Celts in general once Melton was forced to sit out the remainder of the half.
Crespi sophomore point guard (a team-high 18 points) served as a calming force for his team, and showed maturity beyond his years in knocking down all eight of his first half free throw attempts. But with its star out, Crespi struggled to get into an offensive rhythm. Meanwhile for Damien, White came to life, scoring seven points in the frame and helping his team earn a 30-22 lead at the half.
"I knew that they were going to box and one [a defensive scheme in which four players set up in a zone defense while one follows the other team's best player] Bryce [Peters], so I was looking to be aggressive and exploit it," says White. "I'm the second option on our team, so I knew that they needed me to do whatever I can to help my team win."
Orange is the new black
Already tallying eight points in the first half, Peters exploded for an additional 10 points in the third quarter, which included two dagger three-pointers. The key to his hot third quarter? "At halftime, I repeated my daily routine and ate some orange slices!" shares Peters. "And luckily, my teammates got me the ball, because they knew if I got hot, it'd be game over for [Crespi]."
"Bryce is ridiculous; we love his aggressiveness," adds White of Peters. "He's the nucleus of our team. We just all try to gather around and feed off him. That's our captain."
But Peters wasn't the only player on the floor with the hot shooting hand, as Crespi senior shooting guard knocked down three critical three-pointers in the third quarter to keep his Celts afloat and bring them to within five points of Damien at 45-41 by the end of the frame. And in the fourth quarter, the entire Crespi squad followed Oxley's lead, getting timely baskets from Williams and Mykhaylov (who scored five of his nine points in the fourth).
Melton, who was forced to play conservatively for much of the second half with four fouls, amped up his aggressiveness to galvanize the comeback. With 40 seconds left to play, he drilled a three-pointer to make it 59-55 and then, moments later, converted a tough layup to make it 61-58 with 25 ticks left on the clock.
After Peters hit two free throws, Oxley saved his best for last, knocking down his fourth three-pointer of the night to make it 63-61, Crespi's first one basket deficit since early in the second quarter, with nine seconds left, getting the Crespi fans who made the trek out of their seats. But with the pressure on, Peters once again nailed two free throws to seal the 65-61 Damien win.
"Oh, I was nervous," admits Peters about his two trips to the free throw line in crunch time. "But I couldn't show it because in college, it's going to be like that. You gotta stay composed and just knock them down."
"We're trying to value possessions," says head coach Mike LeDuc of his team's composure late in the game. "Every possession is so important. Value it. The better the team you're playing, the more difficult that is to do. Crespi's a very well coached, really good team."
Though Crespi did make things difficult for Damien down the stretch, the Spartans were able to stay focused and take advantage of their possessions, converting 13 of 15 fourth quarter free throws.
"We could've made it easier on ourselves, but we just had to stay together as a team, grind it out and get the win," says Ryan.
---
Read the latest local and global Catholic News.
Sign up for our newsletter.
---