Athlete Highlight: Bishop Alemany's Ernie Sears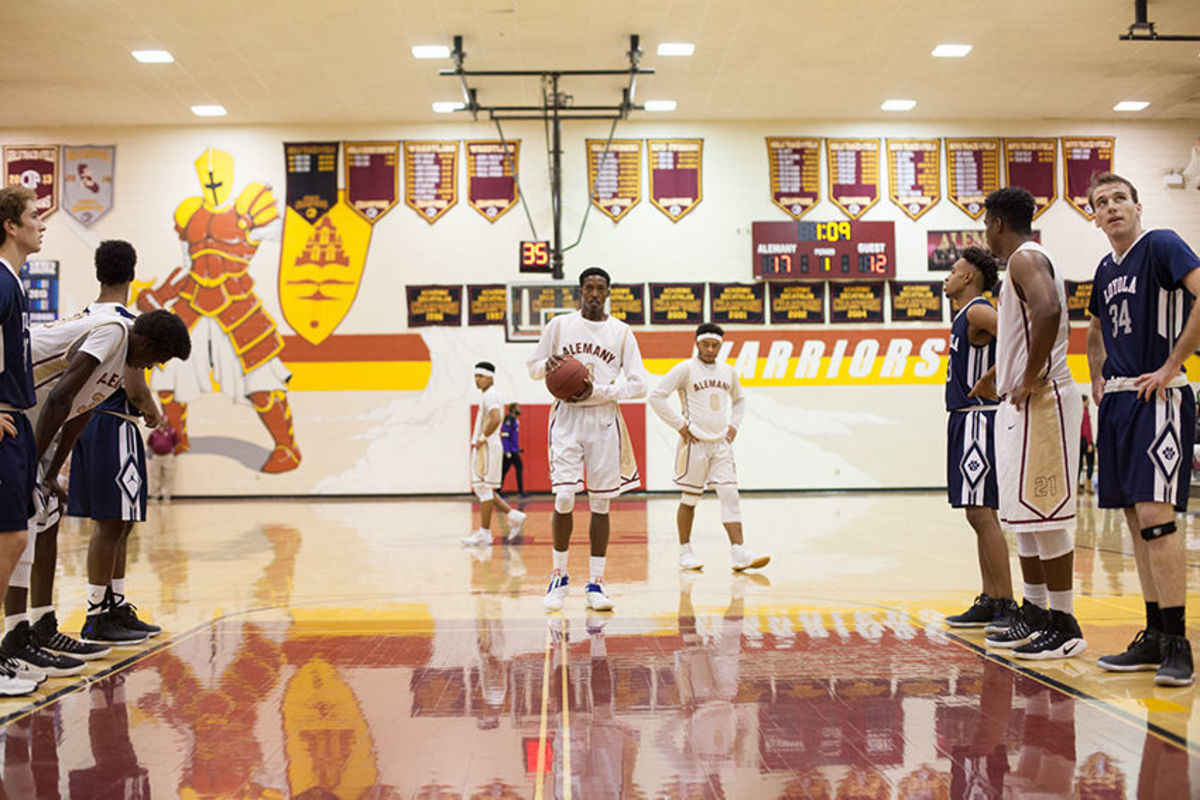 Whether you've seen Bishop Alemany senior Ernie Sears on the basketball court or on the track, you'll inevitably notice this: Sears sure can jump. As a junior last season, Sears set a personal best with a whopping 7' high jump. And now, in his fourth and final year of varsity basketball, Sears has his eye on eclipsing one last tall feat: helping his Warriors become CIF state champions.
A young man with a broad smile and even broader set of interests (interior architecture, sports analytics, broadcasting, music and documentaries about the solar system and animals), Sears recently took the time to speak with Angelus News about sports, his family, his second family at Alemany and how faith has kept the elite leaper grounded.
On family:
"My parents are definitely my number one supporters. They were both athletes in high school and college, so that played a big role in my love of sports. They've seen me through all my accomplishments. I'm the third of four [children]. I have an older brother and an older sister, and a younger brother who's a junior right now [CJ, who's on the basketball team with Ernie].
"One of my favorite things to do is going to family gatherings at the beach or something like that. We're supportive of each other through everything. Whatever we're trying to do, we back each other up. I love it."
On basketball coach Tray Meeks and track & field coach Mike Wellington:
"I have great relationships with both of them. We talk all the time. Coach Meeks was my coach for freshman basketball and moved me up to varsity. I've had him for four years, and we've built a great relationship over that time. I know I can go to him with anything; he's like another father figure. And same thing with Coach Wellington. He's a man of God who wants to see everyone succeed."
On his Catholic school education at Alemany:
"I grew up in Palmdale up until I was 12 years old, so moving from Palmdale and making the drive out to Alemany, man, that was tough. ... It took me a while to grow accustomed to living out here. But a school like Alemany made that transition so much easier for me. I remember when I first saw the school, I was amazed. The teachers, coaches and students are just great. It's a school where academics are very important. And playing sports keeps me out of trouble. Great spot all around.
"Being at a Catholic school has made me more religious; not in a preachy way, but I find myself praying to God more, that he'll stay with me and help me make the right choices. It has made me into a better person by making me more aware of how much I value family and friends, and being aware of the things that aren't a given in life."
On senior leadership:
"I'm very aware of how much influence I have on others. I want to use my experience to help other people get better on our team, showing them examples and, hopefully, what you give off to them will [help them] down the line when they're seniors."
On his goals for the Warriors' basketball program this season:
"Our goal is to win CIF state. I definitely think we have the ability to. It's just a matter of us coming together and working hard every day, and wanting to get through the tough times and adversity together. I think we have the team to do it."
On having fun:
"When you first meet me, I'm very approachable and I'm always smiling. I want to make sure I'm having fun no matter what it is that I'm doing. My dad always told us, 'Make sure you're having fun, because, if you're not, what are you doing it for?' So when it comes to sports, I take it seriously, but you don't want to make it hard on yourself, which will happen if you don't enjoy it like you do when you're younger. So I just always try to have fun."
---
Read the latest local and global Catholic News.
Sign up for our newsletter.
---