An NCAA basketball first: 'Twin titles' for Catholic teams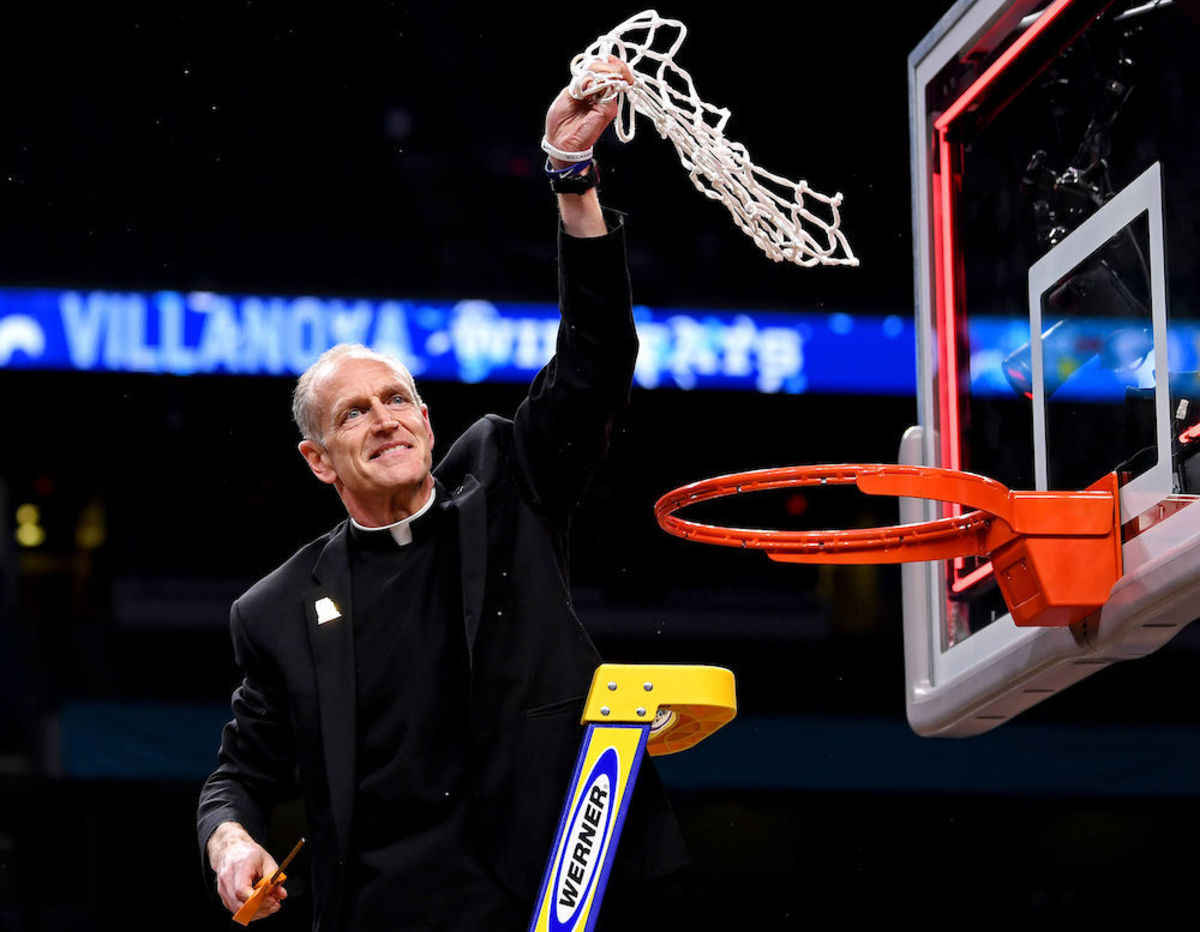 Whether Catholic university basketball is better than, well, non-Catholic university basketball can be argued long after the winners' trophies are awarded, the losers' tears are dried and everyone goes back to the business of earning their degrees (or so we would hope).
But it's clear that in 2018, Catholic schools — for the first time ever — reign supreme in both men's and women's basketball, as Villanova and Notre Dame earlier this week won NCAA championships in different but compelling fashions.
Villanova earned its second men's title in three years under head coach Jay Wright (and its third overall) when it dominated Michigan 79-62 on April 2 — two years after the Wildcats beat North Carolina in the 2016 title match, and more than three decades after Rollie Massimino coached Villanova to an upset win over Georgetown in 1985.
A day earlier, the Fighting Irish women's team posted a dramatic 61-58 victory over Mississippi State to win its second title and first since 2002, both under coach Muffet McGraw. Notre Dame had lost the championship game four times in five seasons (2011, 2012, 2014 and 2015) before downing MSU on Arike Ogunbowale's three-point basket in the final second.
Since the women's tournament began in 1982, only one other Catholic university besides Notre Dame has reached the championship game: Rutgers of New Jersey, who lost to Tennessee in 2007.
The men's title game, meanwhile, which was first played in 1939, has seen a dozen different Catholic schools compete, with Georgetown the first to play for the title (losing to Wyoming in 1943), and Holy Cross the first to win (beating Oklahoma in 1947).
After St. John's of New York was beaten by Kansas in 1952, La Salle of Philadelphia was the next Catholic university to win the NCAA championship, beating Bradley in 1954. The Explorers returned to the finals the very next season, in the tournament's first all-Catholic school final, where they were beaten by one of the most famous teams of all-time, Catholic or not, the University of San Francisco.
The Dons, led by Bill Russell and coached by Phil Woolpert, became the first and only Catholic school to win back-to-back titles when they defeated Iowa in 1956, running off a then-record 56 straight wins over two seasons.
In 1958, a Seattle team led by future Laker great Elgin Baylor lost to Kentucky — the NCAA super-power of the pre-John Wooden era. But in 1963, Loyola of Chicago — before its association with Mundelein College and its then assistant director of scholastics, Sister of Charity Jean Dolores Schmidt (a child of '43) — rallied from a 15-point deficit to stun No. 1-ranked Cincinnati, 60-58 on Vic Rouse's basket with one second left in overtime.
Dayton University had the honor in 1967 of being the first of seven straight teams to lose to Wooden's UCLA Bruins in the championship game, 79-64. In 1971, Villanova became the fifth, losing 68-62 but hanging close to UCLA much longer than anyone expected.
Al McGuire coached Marquette of Milwaukee to the title game twice in the mid-1970s, losing to North Carolina State in 1974, but beating North Carolina in 1977. Then Georgetown, under the stern hand of coach John Thompson, reached the finals three times in four years, losing 63-62 to North Carolina in 1982, beating Houston 84-75 in 1984, and (as mentioned earlier) losing 66-64 to Villanova in 1985.
Four years later, upstart Seton Hall of South Orange, N.J., nearly pulled off a shocker, losing 80-79 to Michigan in overtime. After that, it was 27 years until another Catholic school appeared in a men's final, when Villanova beat North Carolina in 2016.
A year later, Gonzaga of Spokane — the long-dominant power of the West Coast Conference — reached the championship games against perennial national power North Carolina, which prevailed 71-65. Villanova's title win April 2 makes three straight years a Catholic university has made the men's finals.
---
Read the latest local and global Catholic News.
Sign up for our newsletter.
---